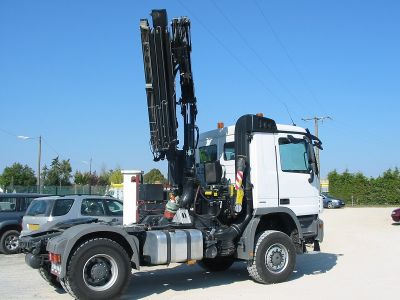 An antenna of detection for high voltage overhead electric lines
System of prevention wich with a little antenna of detection placed on the boom of crane before telescope, indicate high voltage overhead electric line presence around crane with blocking of all the movements (forced function permite to get going again).
2 thresholds of detection
MEFIANCE : Secondary state of safety signalled by an audible beep.
DANGER : Seuil de détection signalé par alarmes visuelle et sonore - blocking of crane.
Distance from antenna to line 20kv integrate a total movement of crane and the 3 meters of safety.


Thresholds of detection adjustables during installation
Thresholds of detection are adjusted in factory but there is a possibility during assembling to adapt and to fix the volume of protection (distance of detection) according to use.
2 boxes of visualization
- A visualization of the alarms in cabin for prévention
- Avisualization in outside for use
Assembling on all kind of cranes
As well for a crane situated behid a cabin as a cantilever crane. (crane behind plateau)
Option:
Possibility to add a flashing light or to connect an existing flashing light to signal around a vehicle, presence of Danger.