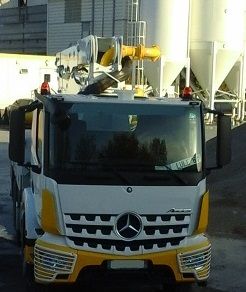 An antenna of detection for high voltage overhead electric lines
System of prevention which with only one antenna of detection on the vehicle cabin roof, indicate presence of the high-voltage electric line around concrete pump with blocking of all the movements of boom (pumping is still authorized). Forced function permite unblocking with an audible beep when the boom moves.
2 thresholds of detection
MEFIANCE: secondary state of safety signalled by an audible beep.
DANGER: threshold of detection signalled by visual and audibles alarms- blocking of boom.
Distance from antenna to line 20kv integrate total movement of boom and the 3 meters of safety.
Thresholds of detection adjustables to installation
Thresholds of detection are adjusted in factorybut there is a possibility during assembling to adapt and to fix the volume of protection (distance of detection) according to use.


2 boxes of visualization
- A visualization of the Alarms in cabin for prevention.
- A visualization in outside for use.
Assembling on any kind of pump
Options:
- possibility to add a flashing light or to connect an existing flashing light to signal around vehicle presence of danger.
- Kit "carried alarm": permite to move wireless near gas pump attendant, audibles informations about presence of Danger and starting of Forced function.
It is composed :
- 1 transmitter box (cabin of vehicle)
- 1 portable receiver box with a clip of fixing.