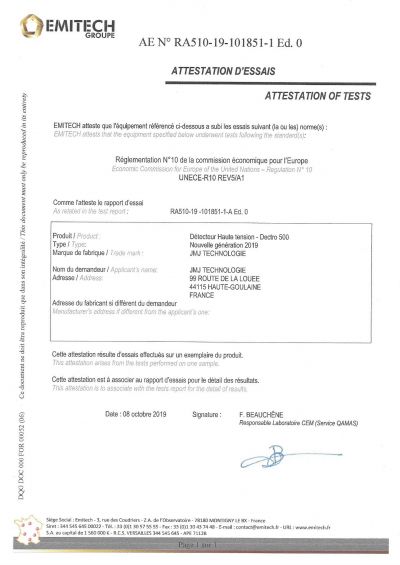 Our solution, system "DECTRO"
System "DECTRO" is an overhead electric lines detector.
It is intented for any kind of vehicle such a metallic part is liable to touch contact accidentally with a high voltage electric line.
When the boom comes near the line, device start a visual and audible alarm and block the boom movement.
This one could be unbolted by user, after the line was located (DANGER) and with user responsibility.
Sensitivity of device was adapted for a 20000 volts overhead electric lines detection, in indicate the high voltage line presence in the environnment of vehicle.
Mean of prevention
Used like a mean of warning, detector alert user about high voltage electric line proximity, but doesn't shield user to safety orders application.
(décret 2008-244 du 7 Mars 2008 - obligations du code du travail - article R4534-108).
Technicals specifications
- high voltage overhead electric lines detection (20000 volts and more).
- Accordance to specifications of electromagnetic compatibility EMC.
- Device protected agains't radiophones disruptions.
- Supplying : 24 VDC or 12 VDC (connection to battery of vehicle).
- Consumption and clutters limited (embedded mode).
- Outside boxes watertight: IP66 - IP67 - not outside connectic.
- Range of extreme temperatures working: -20°C to + 70°C.
- Easy to use for operator
- Automatic mode for starting and power cut.
- Autotest of device for every switch on.
- Parametering of software for device sensitivity during installation.
- Application of "positive safety" concept.
- The device is leaded during installation, with possibility to unbolt blocking if there is a breakdown by a key according to a define procedure.
- Device sensitivity limits make impossible lines 220 V - 380 V detection.
- System doesn't detect continuous tensions presence.
Options
- Signal to pilot a flashing light.
- Wireless carry of an audible "Alarm" signal
- For specific applications : possibility to add one or several antennas.
DECTRO is a registered trademark of JMJ Technologie
References
- ECE R10 Rev 5/A1 - 2019
This new generation from the range of devices DECTRO 500 is in accordance with EMC norms (electromagnetic compatibility) -rule ECE-R10-REV05/A1 of economic commission for Europe – applicables to electric and electronic equipment in automobile environment.