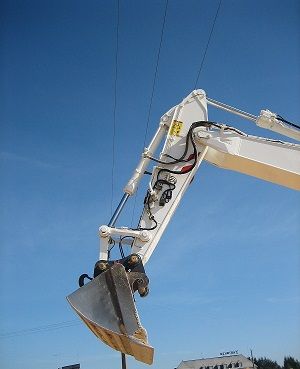 An antenna of detection for high voltage overhead electric lines
System of prevention with with a little antenna of detection placed in the end of the boom before pole, high voltage electric line presence around excavator with blocking of movements:
- Without forced function :
we autorized to down.
- With option forced function:
we block all the movements, we get going again by support on the push button situated on box of visualization in cabin.
Threshold of detection
DANGER: Threshold of detection signalled by visual and audible alarms - blocking partial or total.
Distance of detection minimum from antenna to line 20 kV: 4 meters.
Threshold of détection is adjusted in factory but there is a possibility during assembling to adapt and to fix the distance of protection according to use.
Visualization in cabin
A box of visualization for alarms (visual and audible) in cabin specific to installation.
Assembling on all types of hydraulic excavator
Options:
- Possibility to add a flashing light or to connect an existing flashing light to signal around excavator, the presence of Danger.
- Forced function is used by push button.